The select findings from the "China Going Global Report" were published Tuesday in Davos by advisory firm Brunswick Group, showing a growing division in views on China's global influence between emerging and developed Countries.
Public confidence in China and Chinese business continue to gain momentum in emerging markets, with 84% of respondents expressing positive opinions, representing growth of two percentage points from a year earlier, the findings show.
Only 16% of respondents in these markets expressed a negative opinion
In developed countries, perceptions are more mixed, with 58% of respondents being positive, and 42% holding negative views.
While positive opinions of China remained stable in the United States at 48%, and the United Kingdom at 60%. Positive opinion in Germany and the Czech Republic made big gains over last year, reaching 68%.
The select findings are based on a survey of 9,700 respondents in 23 countries, ranging from developed markets like the U.S., U.K. and Germany, to emerging countries across Africa, Asia, Europe and the Middle East.
A total of 50% of respondents in emerging countries said China offered the most economic benefits, compared with 30% for the United States. China's Belt and Road Initiative clearly has made an impact.
More scepticism is expressed by developed country respondents, with only 29% saying China offered the most economic benefits, compared with 40% for the U.S.
Both developed and emerging country respondents expect China to become the leading economic and technological power in the future.
Brunswick has tracked global perceptions of China and Chinese businesses since 2016 and will release the full "Third China Going Global Report" next month.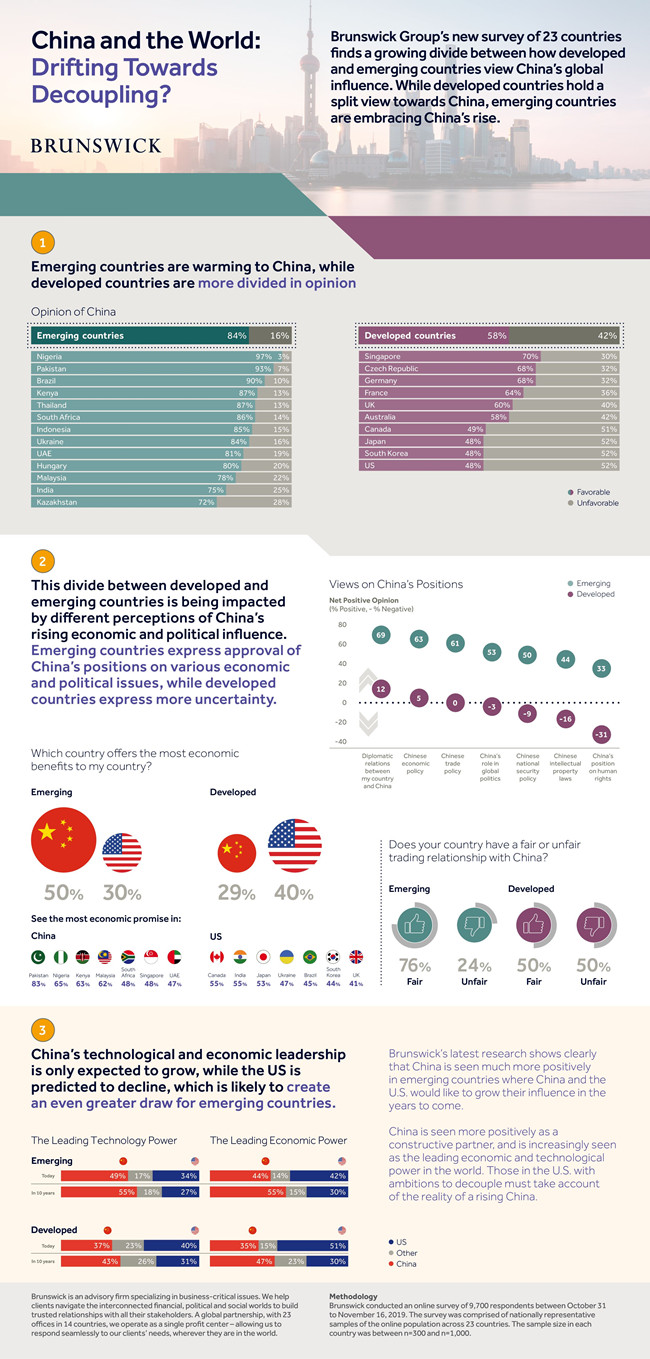 Editor's Note:
The article reflects the author's opinion only, and not necessarily the views of editorial opinion of Belt & Road News.