Europe has always punched below its weight in the geopolitical ring. But with the transatlantic relationship fraying, it's now relying on its trade clout to redefine its position as a global leader.
And nowhere is that more evident than in its complicated ties to China.
On Wednesday the European Union is rolling out a set of proposals to bolster local industries, fighting back against companies that receive aid from foreign governments. The plan could ban these non-EU firms from making acquisitions, or force them to divest assets, and allow for the imposition of fines.
Caught between an increasingly aggressive China and an America in retreat from multilateral pursuits, the EU is seeking to transform itself from a supporting role to lead actor in the global order.
The bloc's latest move comes just after the EU launched a novel way to use tariffs to curb China's "Belt & Road" infrastructure plan and just before new legislation on screening foreign-direct investment on national security grounds comes into effect.
The EU's internal market "can be open to certain abuse where state-owned enterprises can subsidize companies in order to compete with European companies in an unfair way," Phil Hogan, the bloc's trade chief, said Tuesday. "We now see the need to have a level playing field," he added in reference to China.
The European measures come in sharp contrast to those of its closest historical ally, the U.S., which has taken broad, unilateral trade action and used the bluntest of tools tariffs to further President Donald Trump's "America First'' foreign policy agenda.
In planned testimony to Congress set for Wednesday, U.S. Trade Representative Robert Lighthizer isn't shrinking from that approach in the waning months of the Trump administration's first term, despite the fact that the U.S. trade war with China hurt American manufacturers and farmers last year.
"The president directly confronted China's abusive trade practices through substantial tariffs," Lighthizer said in his prepared testimony.
"By establishing a strong dispute resolution system & maintaining tariffs on approximately $370 billion in goods from China, the administration has maintained the authority and leverage to enforce China's compliance with the agreement," Lighthizer said.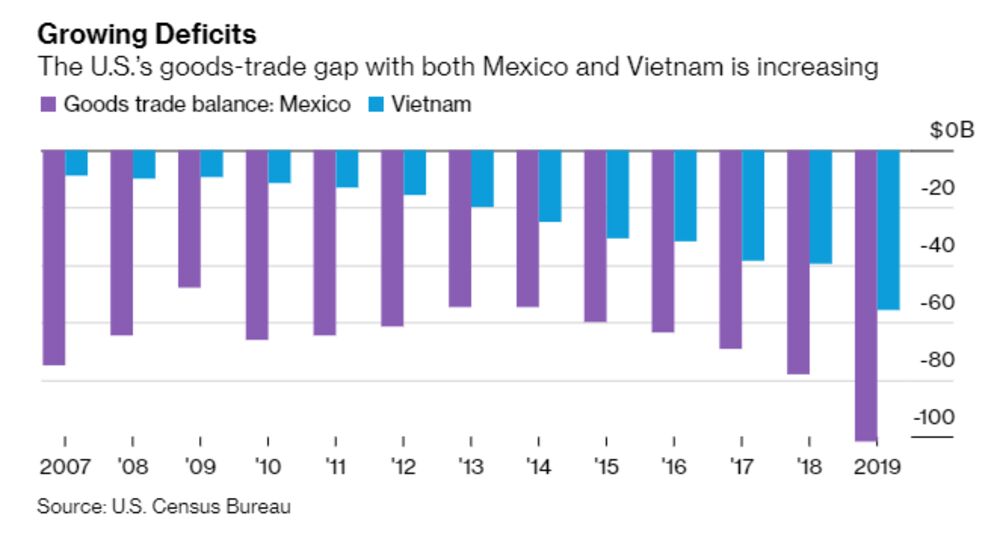 U.S. Trade Representative Robert Lighthizer will testify at two congressional hearings Wednesday on the Trump administration's trade agenda, including his push for a so-called decoupling from China.
Vietnam & Mexico have been big beneficiaries of the strategy, illustrating how a policy focusing largely on reducing American reliance on Chinese imports has just shifted production rather than reduce trade imbalances.
Author: Richard Bravo